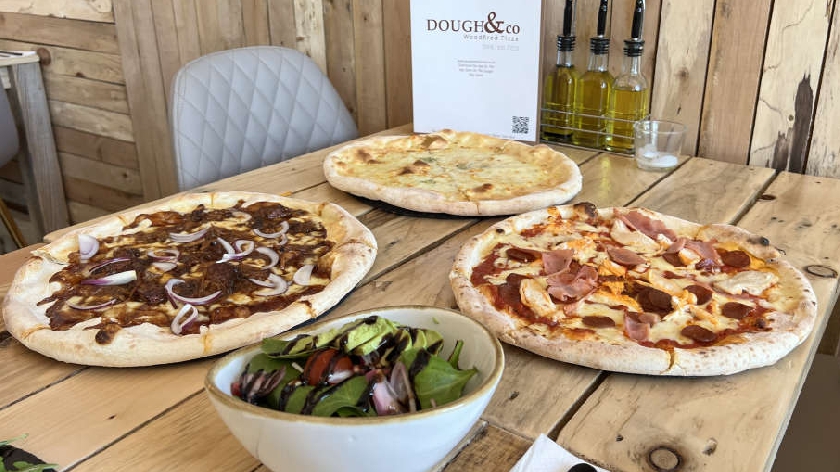 Jodie Erica from the MKFM team was invited down to DOUGH&co to try a selection of their dishes including a 12" woodfired pizza.
DOUGH&co Woodfired Pizza is located within the small strip of restaurants that are placed at the top end of Kingston Centre Milton Keynes. You can't miss the restaurant as it's very easy to spot from the outside, plus, these restaurants are mainly the first thing you will see if driving towards Kingston Centre. There's an abundance of free parking to use on either side of the restaurant and if it is quite busy, you could always utilise the shopping carpark as last resort.
it's a fantastic location and so easily accessible, it's great to have there as you can always enjoy a good bite to eat before or after some shopping or maybe visit DOUGH&co for a lovely lunch date or a family dinner outing.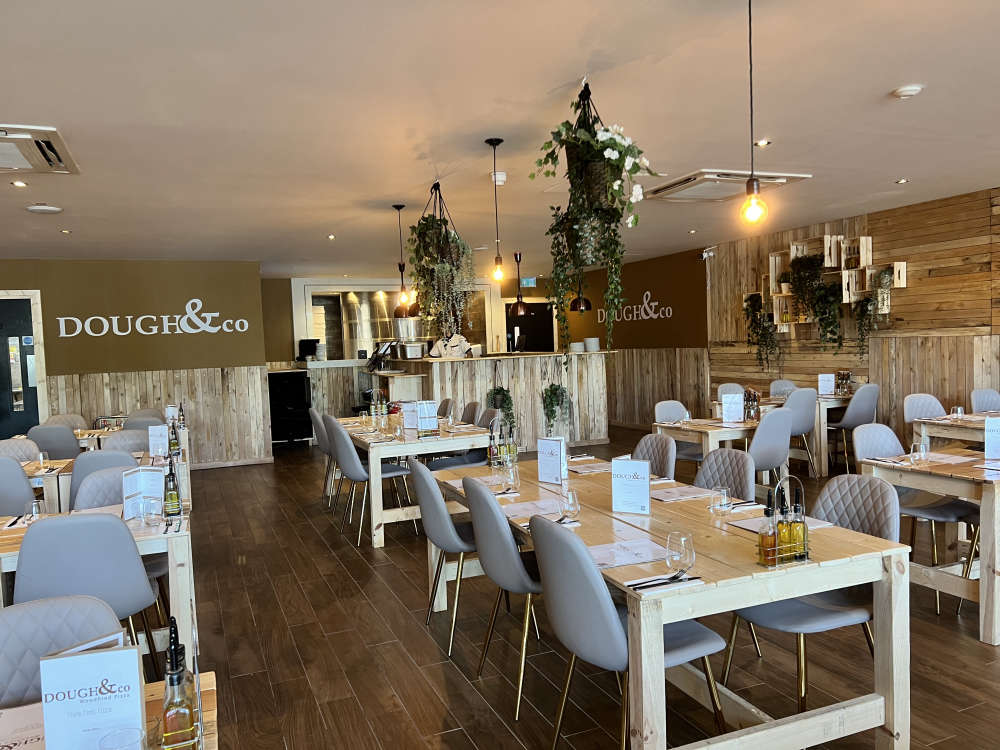 As mentioned lightly, the outside of DOUGH&co looks fairly big, but when you walk through the automatic doors you will see how big and spacious the restaurant really is. It was a breath of fresh air walking in, it was all so airy and bright and I feel because of how it has been designed and decorated, that's what makes it even more expansive, very inviting.
You are greeted with a warm welcome and smile from the staff member behind the bar, which by the way, looks amazing! as you will see in the images in my review, it has such a cool and very tall-built alcohol cabinet that stems even further up homing plants as decor, it looks fabulous.
I love the look of the light wood with the warm drop-down lights, the light-coloured paint with toffee-coloured feature walls and lots of lovely modern decoration. It's such a comfy and cosy place, it's like you have walked into a classy cabin restaurant, it's so simple but super effective and also very 'instagrammable' and picturesque.
I am a huge pizza lover, so I was very excited to try some of DOUGH&co's dishes and being in there taking in the look and feel of it, it does get you even more excited.
I ordered a range of dishes, one 'The High Protein One' 12" inch woodfired pizza, BBQ Pulled Pork Flatbread, Garlic Bread, DOUGH&co Dough Triangles, a Superfood Salad, one Henham Honey & Lavender Saffron Handmade Ice Cream dessert and a can of San Pellegrino Pomegranate and Orange.
I have never tried San Pellegrino before so I had a taste of this whilst the order was being made, it did give me a slight soda or tonic kind of taste and sensation which I personally am not the biggest fan of, but the flavour was really nice and very refreshing!
The lovely lady serving me brought out the dishes and my god, they all smelt amazing and looked delicious! The pictures I have taken look lovely but they honestly do not do the food justice.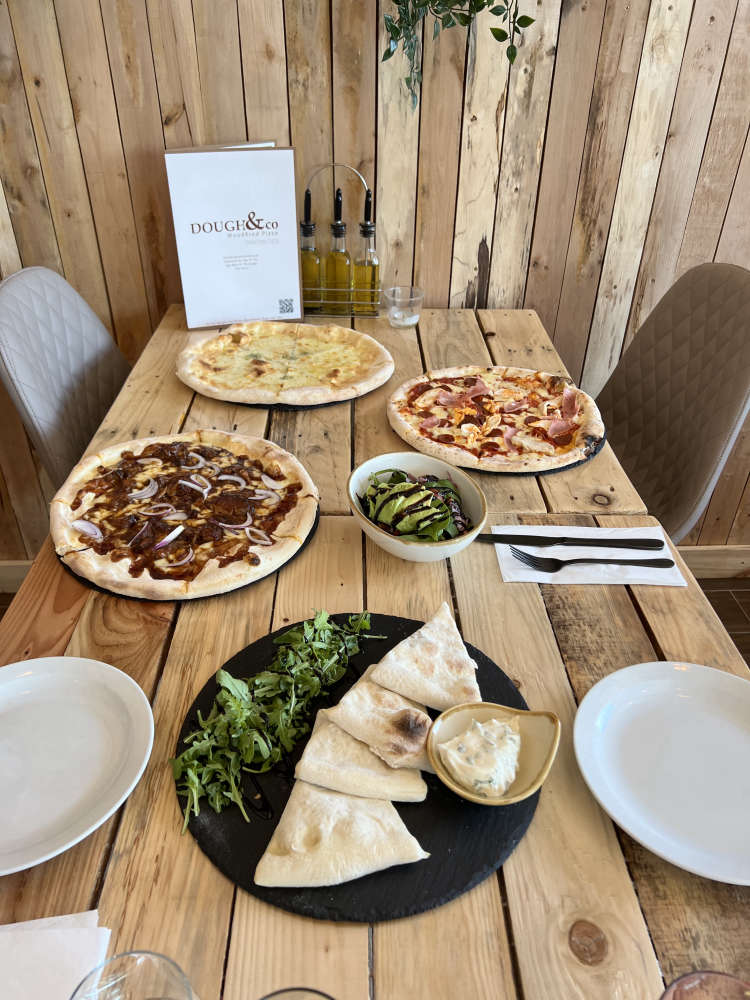 I have to say, it was difficult to choose a pizza due to all of the yummy and unique sound of pizzas that DOUGH&co provide, but because I am a gym-goer and had been for an early morning session before work I ordered 'The High Protein One', a 12" woodfired pizza that consists of tomato-based sauce, Fior Di Latte Mozzarella, Italian mam, pepperoni and chicken breast.
The toppings are evened out all over the pizza so for every slice you have you are not missing out on anything, I took the first bite and that was it... I was in pizza heaven. I love how the pizza is thin and easy to fold in half, which is a well-known pizza foodie tactic. It's lovely and hot with what tasted like a freshly made tomato base, the cheese is all melted and stringy and all the toppings gelled and tasted beautiful together.
I tried some of the superfood salad as a side which compliments the woodfired pizza really well, it always makes me feel that little bit better having a good healthy salad present to eat, most likely to justify the pizza I am indulged in. The salad is a mixture of fresh spinach, walnuts toasted in their woodfired oven, avocado, pomegranate seeds, cherry tomato, red onion & balsamic dressing... it's a superfood salad for sure! it was full of flavour and gave me a good health kick, I loved the nutty flavour of the toasted walnuts and sweetness of the pomegranate seeds and the sweet tangy flavour of the balsamic dressing.
The DOUGH&co Dough Triangles were so well presented with the triangles in the middle, leafy greens with balsamic dressing and fresh garlic & herb dip to the sides. You can choose any dip from DOUGH&co's dip selection to have on the side of this dish but I chose garlic and herb as it's my favourite go-to dipping sauce, especially with a dish like this or with garlic bread. The dough triangles were super soft and warm and mixed with the garlic & herb sauce... very addictive. The garlic and herb sauce is definitely one of my favourites, it's so creamy and has the nicest strong taste of garlic, I couldn't get enough of it and ended up using it as a sip for most of the dishes.
On to the garlic bread which is12″ with fresh garlic and mozzarella which for me personally, is a key side to have with a pizza meal. I really love the thinness of the bread as it's much easier to hold, dip into sauce and eat. It looks and tastes really cheesy, cheesy garlic bread is a must and I enjoyed every second of it. You can taste the hints of garlic melted with the cheese and it's fantastic, add a bit of garlic and herb sauce and you will be scoffing with the biggest smile on your face.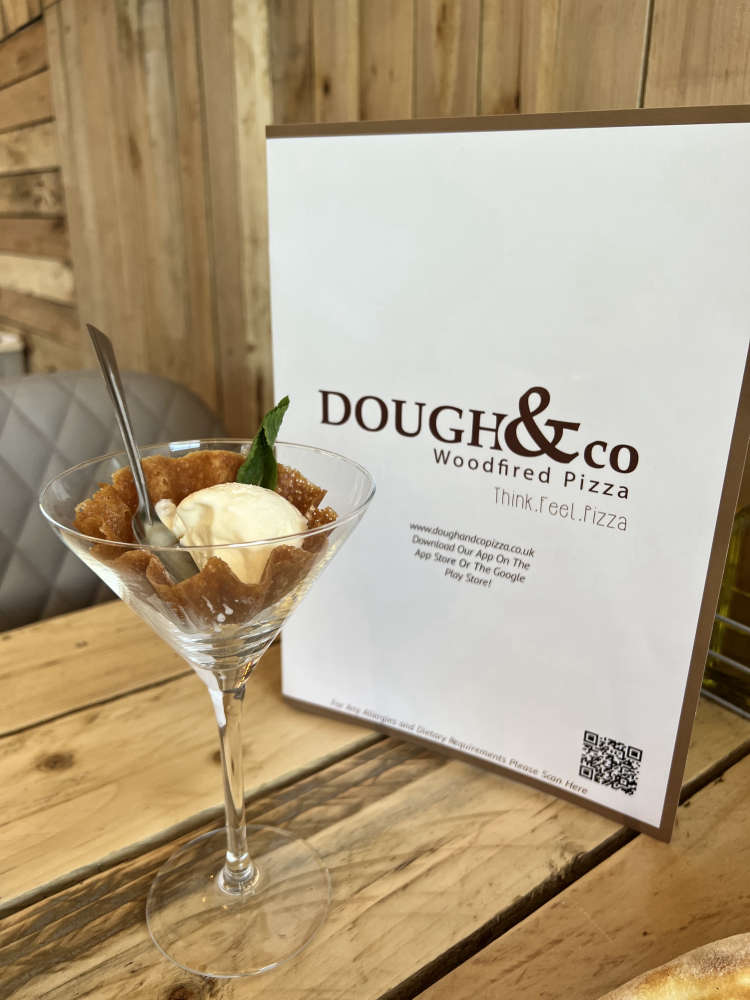 I also had another dip to try which was the DOUGH&co's own tomato base, it's pure tomato from the get-go and works as a really nice compliment and dipping sauce. You can tell it's freshly made, the taste of tomato is strong and this is exactly how I like it.
One of my favourite dishes was the BBQ Pulled Pork Flatbread, you smell the sweet BBQ sauce on it before eating it. It tastes just as good as it looks and I will 100% be having this again. On the slices were chunks of hot pulled pork which tear away beautifully in the mouth with each bite added with the explosion of melted cheese, BBQ sauce and red onions. My colleague Charlotte was with me and confirmed that it was by far her favourite and I have to say, it was mine too. After one slice you have another, and then another, it's filling but you cannot stop due to it tasting so good.
To top of all the insanely scrumptious food, I tried the Saffron Handmade Ice Cream in Henham Honey & Lavender flavour. I absolutely love lavender in everything, so I was instantly intrigued by this particular flavour. It's so soft cold and creamy and I can confirm, that you can instantly taste the lavender! But, it's not overpowering at all, you can also taste the sweetness of the honey, it's gorgeous. I don't usually eat ice cream but I would happily eat this again and again. The perfect ending to a perfect meal.
Overall a fantastic experience at DOUGH&co Woodfired Pizza and to top it off I had my leftovers boxed for me so I could enjoy the rest at home.
Visit DOUGH&co, or you can order online for collection or delivery from 12 noon till 11PM every day!