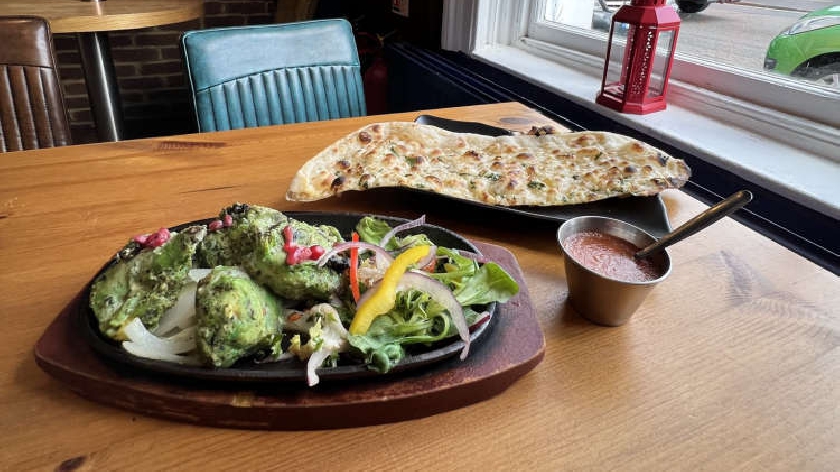 Jodie Erica from the MKFM team was invited down to Craft & Skewers in Newport Pagnell to try their most popular Indian dishes and mocktails.
Craft & Skewers in Newport Pagnell is well known and loved for their delicious Indian food, served in a casual pub setting that offers something for everyone. I have only ever heard great things about them, so I was very excited to experience their dishes and Tandoori delicacies myself.
The location itself is non-other than ideal because there are two free big car parks around that you can use and it's a very short walk across the road. You will find Craft & Skewers on the cusp of Newport Pagnell's historic high streets, you can have a gander and do some shopping either before or after you indulge in some delicious Indian cuisine, and, maybe a mocktail or cocktail if you fancy it?
Upon entering Craft & Skewers, I was welcomed by a comfortable, casual yet quirky, and cute setting. I love the mixture of authentic decoration and vibrant colours in contrast with the modern-style rustic pub aura that is built around different types of brick and wood. It has the perfect blend of pub and restaurant, there's a TV on the wall for the sports lovers, an outside area where you can bask in the sunshine with a freshly brewed beer and there are the homey, historic, and sleek areas for dining.
I was greeted by Larson, the barman at Craft & Skewers who kindly made me two mocktails and a cocktail to sample. You can see how passionate Larson is behind the bar and it's a joy to see, he presented me with mocktails 'Once in a blue moon' and 'Strawberry Mojito', alongside one cocktail called 'Espresso Martini'. The Strawberry Mojito was beautiful and fruity from the get-go, it was sweet and had such a lovely fizz to it. You can also taste the refreshing hint of mint from the mint leaf perched on top, contributing to all of the flavour.
'Once in a blue moon' was my favourite, I love the name and instantly sang the song 'Blue Moon' in my head with flashbacks of Grease the movie which made me giggle. It looks full of exoticness and flavour and it is, it's a wonderful mixture of different fruits but I can taste the Melon the most. It had a nice light fizz to it and was lovely and cold, it has a very addictive sweetness and taste.
I only sampled a couple of sips of the Espresso Martini as I was driving, but a couple of sips were all I needed to be able to taste exactly what an Espresso Martini stands for. The coffee was very subtle but still prominent, I'm not the biggest fan of this mixture but I have to say, it was very well balanced and neither the coffee nor vodka overpowered one another. The Martini itself does look fantastic, and so do the others, Larson shows you that being a bartender is not just about pulling pints, it's a form of art. If you love both coffee and a vodka-based cocktail, then this is one for you.
I smelt the food before it made its appearance and when I did see it, I was instantly in awe of how delicious it all looked. It's the kind of food you see that looks so good you don't even want to ruin it, but obviously, it would be a crime not to eat it!
I had the pleasure of reviewing the Butter Chicken, Avocado Papri Chaat, Hariyali Chicken tikka with added sides, Pilau Rice, Garlic Naan with Tomato Chilli dip. At first glance, other than seeing how fantastic everything looks, you can see how big the portions are that everything is freshly cooked nice and hot, ready to be consumed.
The Avocado Papdi Chaat was a yummy mixture, I'm not a lover of avocado, in fact, I tend to go through phases with it but I did enjoy it with this dish. The avocado is layered on top of the dish, underneath you will see Papdi, chickpeas, pomegranate seeds, and lots of other ingredients, that create a lovely layered bite. I also like the fact that the avocado is on top so ultimately you can have the choice of mixing it in or not, I chose to take a fully layered mouthful of everything there and it was a great combination of crunchiness, flavour, and the added creamy sensation of avocado.
The Hariyali Chicken Tikka is flavoured with fresh green herbs and sprinkled with spices, it is also complemented by a salad with onions and peppers. The chicken is cooked well and is served nice and hot, you can even see the steam come off of all dishes including this one. The flavour of this chicken was different from anything I have previously had and I loved it, I enjoyed the hot flavours and I could feel a slight kick appear gradually throughout and afterward. The pomegranate seeds contributed such a sweetness to the chicken as they re also marinated all over them, added with some salad, this was a very delicious dish altogether.
The Butter Chicken is a Punjabi-style rich and creamy tomato-based curry cooked with Tandoori Chicken Tikka pieces. I fell in love with this dish from the first mouthful, I have honestly never tasted anything like this before, and is now one of the best dishes I have ever experienced so far. My first mouthful was a gorgeous combination of hot buttery chicken and a rich dreamy and creamy tomato sauce, it's divine. There is a kick to it and if you read my reviews then you know that I'm not usually great with hot and spicy foods (I am currently in training), but I have turned a corner here because when eating this butter chicken dish, the spicy heat of it wasn't bothering me at all because of how delicious it tasted.
The Pilau Rice was soft and cooked just right, not stodgy and not hard, it was done perfectly. I can never cook rice properly and find that happy medium, so Craft & Skewers rice was a breath of fresh air. The rice alongside the Garlic Naan Bread are the best sides to have, they complement every single dish without fail and I love the taste of garlic, especially on bread.
The tomato Chilli sauce also adds something different to the plate, I love tomatoes myself so this was a really nice dip to have, especially using it to dip the garlic naan bread in or some of the Hariyali Chicken Tikka.
I didn't want to stop eating because I was thoroughly enjoying everything but my stomach was struggling to fit in anymore. But, nothing goes to waste and you don't have to part with your leftovers as Craft & Skewers will box it all up for you so you can enjoy seconds later or the day after. This made me so happy knowing I could enjoy the rest at home, especially the butter chicken and I did, I had it for lunch the next day and it was so so good. My dad even walked into the kitchen and said how amazing it smelt, so I told him all about Craft & Skewers and now it looks like we will be heading back there soon, I'm very excited.
A massive thank you to Arun and Larson for their hospitality and for giving me the opportunity to review their wonderful food and drinks.
You will find Craft & Skewers here: 122 High St, Newport Pagnell MK16 8EH
The opening hours are:
Monday-Thursday: 12-10 pm
Friday-Saturday: 12-11 pm
Sunday: 12-10 pm