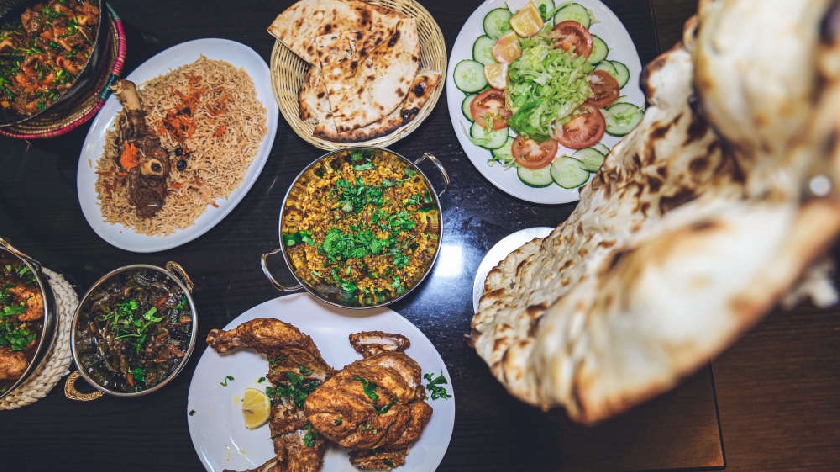 Khyber Chefs has officially opened its doors in Wolverton and Sam from MK's Finest was invited down to try some of their food...
Khyber Chefs has been launched by the owner of Zouk Lounge, an incredibly successful restaurant just a few doors away on Stratford Road.
The new restaurant specialises in Peshawari dishes, which are a mixture of both Pakistani and Afghan cuisine.
The team behind Khyber Chefs have worked incredibly hard on perfecting their food to ensure it is authentic as possible. The food is just as you would have in the Peshawar region.
I was thrilled at the choice of dishes, both for meat-eaters and vegetarians, so I asked the team to choose some of their favourite items from the menu.
Food...
Peshawari food is known for its mindful use of spices but amazing flavours, and first, let me tell you that your tastebuds will go on an adventure! The main dishes I tried were the Chursi Chicken Karahi, Kabuli palao with lamb shank, and parts of the Shinwari platter.
The Chursi Chicken Karahi is famous in all Pakistani cuisine. It is a medium-spiced dish that has delicious, tender chicken on the bone. I must admit that I usually cannot cope with any heat but this was different - I tasted the flavours, the spices, minus the heat. It was beautifully cooked and paired perfectly with the palao and naan that the chefs provided.
Khyber Chefs also serve lassi, which are smooth yoghurt-based drinks that cleanse the palate when things get too hot. This worked a treat!
The restaurant is a meat eater's paradise as the meat is like nothing I have tasted before. The lamb shank was tender, juicy and almost melted in the mouth.
There is also a Shinwari platter, perfect for two people, which has a mix of kebabs, Kabuli palao, fish, chops, ribs rack, whole chicken, salad, naan and more. What a vast array of flavours it has! The fish cakes are smoked hake, infused with spices and has a slightly crunchy outer layer. It was incredible.
The whole chicken is also a must-try. It is slowly cooked to ensure that it remains juicy and tender. The flavours are so intricate and I had hints of sweetness, spiciness and smokiness. Absolute heaven!
The meats went perfectly with the vegetable side dishes such as the Daal Mash (lentils) and Bhindi (okra).
That's enough of me talking, have a look for yourself...
Final thoughts...
I thoroughly recommend Khyber Chefs for a meal out or a takeaway. The restaurant is beautiful and has a stunning handmade sunset feature wall so you almost feel as if you're away on holiday.
The taste of the food transports you out of Milton Keynes. It is completely unique and there is no restaurant like this in the local area, so you are guaranteed to have a memorable experience.
Eating at Khyber Chefs...
Customers are able to eat at the restaurant and order food for delivery or takeaway.
| Day | Collection | Delivery |
| --- | --- | --- |
| Monday | Closed | Closed |
| Tuesday | 15:00 - 22:00 | 15:00 - 22:00 |
| Wednesday | 15:00 - 22:00 | 15:00 - 22:00 |
| Thursday | 15:00 - 22:00 | 15:00 - 22:00 |
| Friday | 15:00 - 22:00 | 15:00 - 22:00 |
| Saturday | 15:00 - 22:00 | 15:00 - 22:00 |
| Sunday | 15:00 - 22:00 | 15:00 - 22:00 |
Address: 31 Stratford Road, Wolverton, MK12 5LW
Phone: 01908 222500
Website: https://khyberchefsonline.com