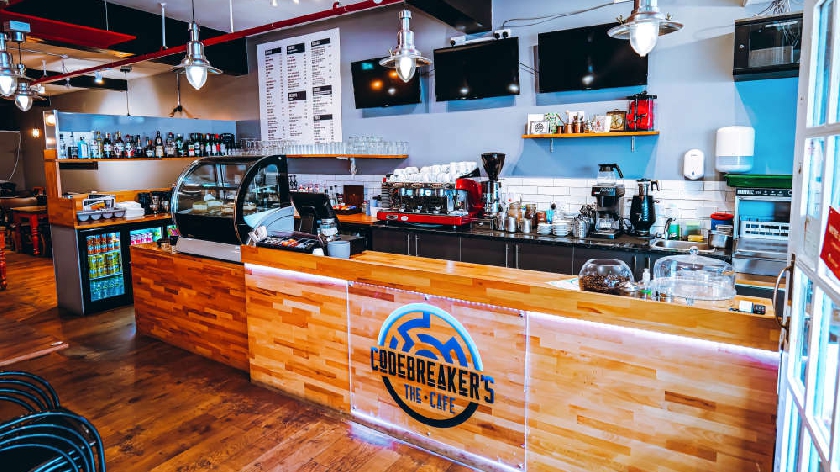 Jodie Erica visits The Codebreaker's Cafe to try some of their breakfast and lunch dishes, here is her full review...
You will find The Codebreaker's Cafe in the heart of Bletchley Milton Keynes, it's the perfect spot for some breakfast or lunch after a good session of retail therapy at Bletchley town centre. I always start shopping from the Brunel centre and make my up to the other end of Queensway where you will find The Codebreaker's Cafe amongst other stores such as; the RSPCA charity shop and USA Top Nails, it's all set out perfectly for a well-planned afternoon outing and The Codebreaker's Cafe is the best final destination!
You can't miss The Codebreaker's Cafe as you will see it brightly lit inside with their logo and banners outside 'Tea, coffee, Cappuccino, Freshly Cut Sandwiches' accompanied by some outdoor seating, I am always drawn to the word fresh as I much prefer fresh foods and produce.
The Codebreaker's Cafe have been opened in February 2021 but due to the pandemic they were only doing deliveries and takeaways at this time, later in the year of 2021 they were finally able to open their doors to the public of Milton Keynes with restrictions in place. You can imagine that this was a very exciting time for couple and owners of The Codebreaker's Vera and Ian, but at the same time it has been challenging since the pandemic, and I feel we can all relate.
It's so important for us to support our local independent businesses however we can, pop in for your favourite beverage whether that's a latte or a cappuccino, or maybe a milkshake? every little helps! speaking to Vera on my arrival, she tells me all about their journey with The Codebreaker's Cafe and it's truly heat-warming to hear everything they have done since their opening and how much they continue to do to spread awareness of their lovely and homey cafe. I was very excited to be doing a review for them seeing as they are so passionate about their food and produce.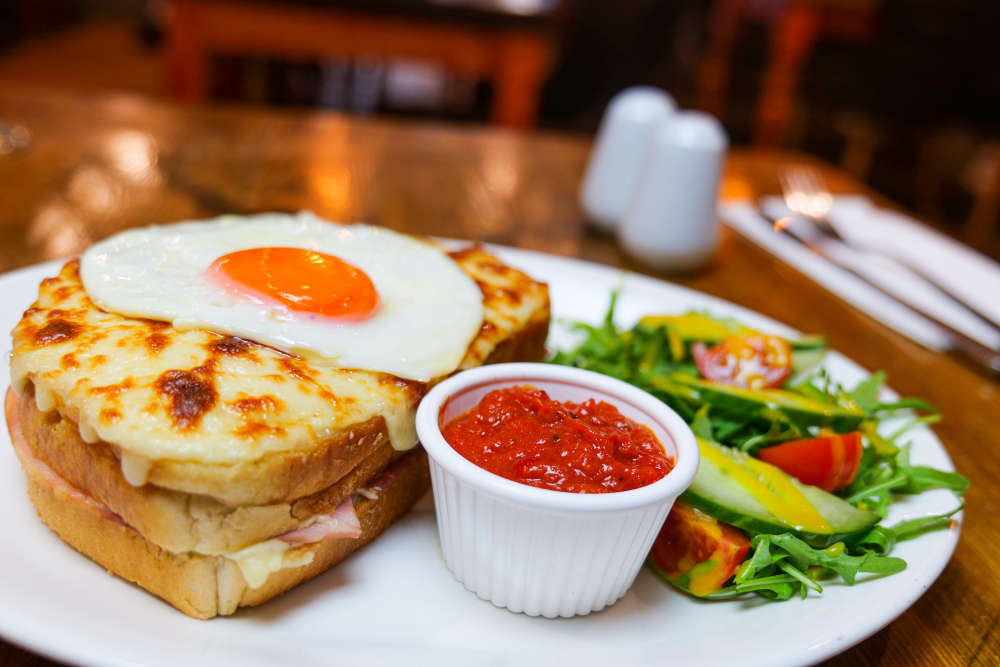 The Cafe itself is very welcoming, spacious and airy and the light colours are complimented by the wooden floor and furniture, I love the modern barista-look, I felt very at ease and comfortable and very hungry once I saw the abundance of delicious sounding dishes on their menu!
Their are so many dishes to choose from, The Codebreaker's Cafe provide breakfast lunch and dinner, alongside various beverages whether thats a hot or cold drink, there is plenty to choose from. I enjoyed a latte first of all, it's my go-to hot drink and I can never not do with a bit of an energy boost in these busy weekdays. There is such a variety of English and Bulgarian breakfast and lunch dishes such as; Full English Breakfast, Small Veggie Breakfast, Bulgarian breakfast, Omelette, Eggs Royale, baguettes, Paninis, Croque, Bulgarian Shepherd's Salad, Pizza, and so much more.
Vera passionately expresses how all of their food is prepared and cooked from fresh and with fresh produce as this is how they cook in Bulgaria and I had the pleasure of trying these freshly made dishes. Vera brought out for me and Tee our photographer and videographer, a Full English Breakfast, a Bulgarian Breakfast alongside the vegetarian alternative, Croque Madam, Cinnamon French Sticks with Strawberries and Ice Cream, and a Strawberry Milkshake. It all looked and smelt amazing and I am so glad that I had Tee to help me try these delicious dishes, there is no way I could have done it alone.
The Croque Madam is a baked sandwich filled with ham cheese and cheese sauce with a fried egg on top, garnished with salad and homemade roasted vegetables sauce on the side. The cheese sauce is actually Bulgarian cheese and oh my, it is heavenly and completely different to the usual cheese sauces I have had before. As soon as you take a bit of the sandwich you could taste all the warm creamy cheese and ham, it was really tasty and not to forget the egg on top which is always a favourite of mine, it was nice and runny too so an absolute bonus! The salad was complimented by a gorgeous honey and mustard sauce and I loved the homemade vegetable sauce, packed full of flavour and I will definitely be back for some more of that!
The full breakfast was definitely full and jam-packed of all the English favourites, bacon, sausages, hash browns, eggs (perfectly runny), grilled tomato, grilled mushrooms, black puddings beans and toast. Everything was cooked spot on, nice and hot! it was the perfect Full English Breakfast... but, I was more interested in The Codebreaker's Bulgarian Breakfast. The Bulgarian Breakfast consists of spiced pork and beef mince, grilled cheese on a toasted baguette served with home-made sauce from roasted vegetables, it had such a strong and inviting aroma and tasted just as good as it looked. Most of the ingredients used to make this dish are Bulgarian, even the Feta cheese is Bulgarian and it tasted fantastic. I am a massive fan of pork and mince, it was all cooked just right and was so sweet, juicy and cheesy! Bitten with a perfectly baked, crunchy in the right places baguette... this was my favourite dish by far. You can order the vegetarian alternative to this which has no pork or mince and is just loaded with Feta cheese, it's very sweet and cheesy.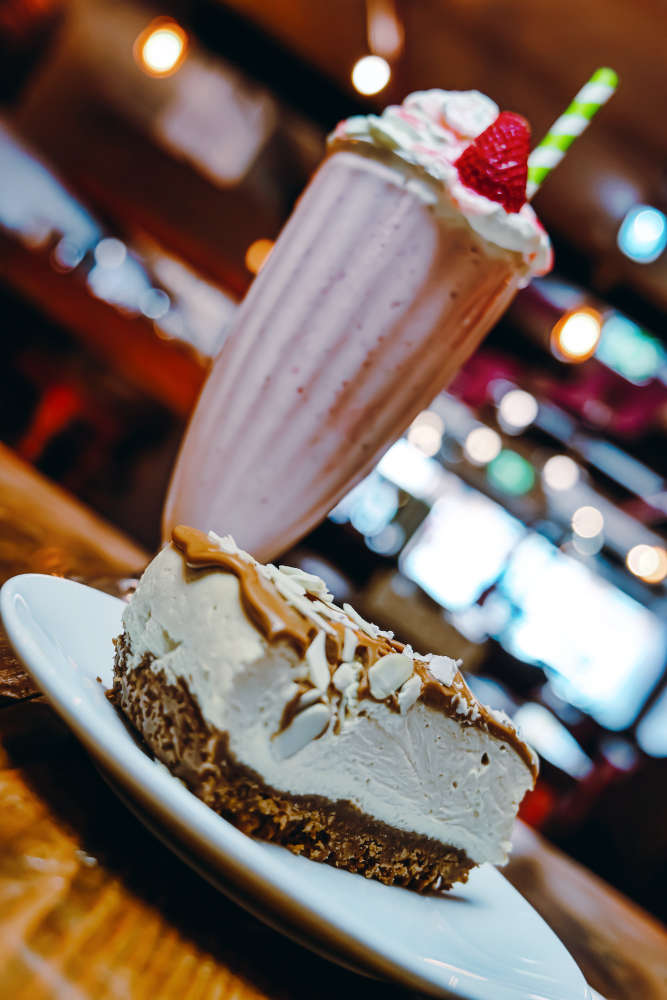 Lets talk about the sweet treats! I am not the biggest fan of Cinnamon, but I have to say, I really enjoyed the Cinnamon French sticks which had ice cream and fresh strawberries next to them. The portion first off is great, there are five sweetly spiced pan-fried sticks and they are rather big too, this will definitely fill hat spot for pudding. If you are a big cinnamon fan then this is perfect for you as cinnamon is also sprinkled all over the sticks, and, you can also choose from a Nutella, honey or jam filling. The sticks are warm and crispy, added with a bit of cold ice cream, creates the perfect combination, sensation and flavour!
To top off this amazing food-packed experience, I ended it with their much-loved strawberry milkshake that has ice cream inside and fresh strawberries on top. I love milkshakes and this was very addictive, it was beautifully sweet and creamy and I couldn't stop drinking it even thought my stomach was screaming at me "I'm full!". There are also vegan milkshakes and I think this is brilliant! not many places I know provide vegan milkshakes, so you can be assured that The Codebreaker's have a yummy treat for everybody.
There are so many sweet treats to choose from and what makes them even better, is the fact that Vera makes them all herself! she's a wonderful cook and baker and has such a passion for it.
I enjoyed the food so much and also the experience, I was always checked on to see if I was okay and if there was anything else I needed, the youngest waitress they have at The Codebreaker's Cafe is 10 years old, she is so sweet and professional and was always asking me how I was. Vera expressed how family orientated they are and it really shows, she gives their children the opportunity to learn and gain work experience when young and also earn some money from it, her mother works with her too at The Codebreaker's and I saw her teaching her how to make a coffee with the machine, it was truly heart-warming.
Pop in to The Codebreaker's Cafe yourself and try the delicious food and drink they have to offer, the cafe is also dog friendly.
Opening hours: Monday – 9am - 2pm, Tuesday – closed, Wednesday to Saturday – 9am 4pm, Sunday – 10am – 4pm.
Facebook @Codebreakerscafe
Check out the gallery below: