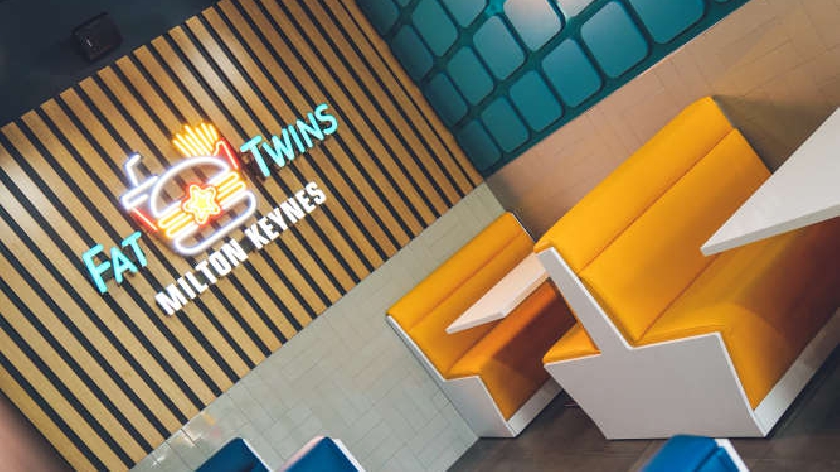 Fat Twins have launched some new burgers on their menu, they invited Jodie Erica down to give them a try. Here is her review.
The Fat Twins burger franchise has released a new line of delicious-looking burgers! Jodie Erica visited the beautifully bright and colourful diner situated in Central Milton Keynes to try them out. Their exact location is 14, Secklow Gate West, Town Centre, Milton Keynes, MK9 3AT.
When the burgers were brought out in front of me, I was already thinking 'Wow, these burgers are big' I could feel my stomach rumbling! Alongside the burgers, I had some lightly salted fries and two pots of sauces, the Big T sauce, and some Chipotle sauce.
The BBQ Smash burger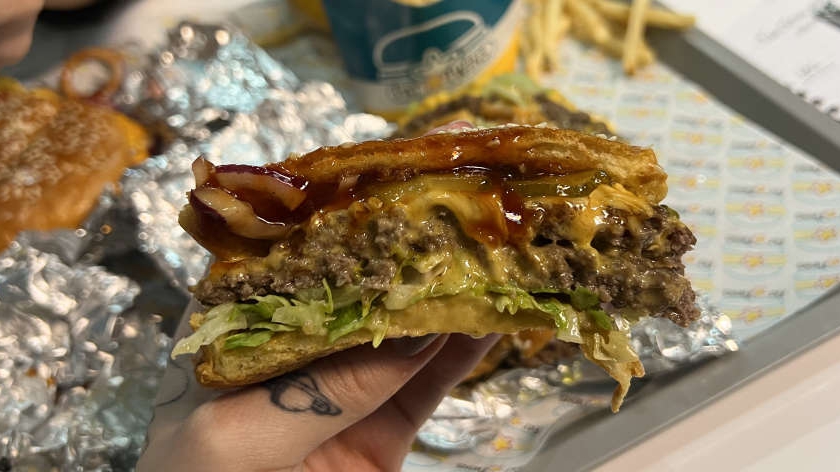 I am a big fan of anything BBQ and this burger did not disappoint. As I peeled away the foil, I could feel the heat of the burger and smell the sweet BBQ sauce. The burger was cut in half where you can see all the delicious layers of the BBQ Smash burger, I can confirm, it was a dirty burger and who doesn't love a good dirty burger!
I personally love the amount of BBQ sauce that was in there. I find sometimes with burgers that there's not enough so that the flavour starts to fade but there was plenty of sauce with the BBQ smash burger, I could taste it with every single bite - it was nothing more than BBQ heaven! You also get the added flavour of red onions (and I love the flavour of red onions in a burger) so this made me very happy! Alongside all the BBQ goodness, you have lettuce, loads of double melted cheese, a double patty and gherkin. I had to take it very slow because I was enjoying it so much, and I was thinking 'this is so filling, how am I going to handle the next two?!' well luckily, I had my sister with me to help out!
The Classic Smash burger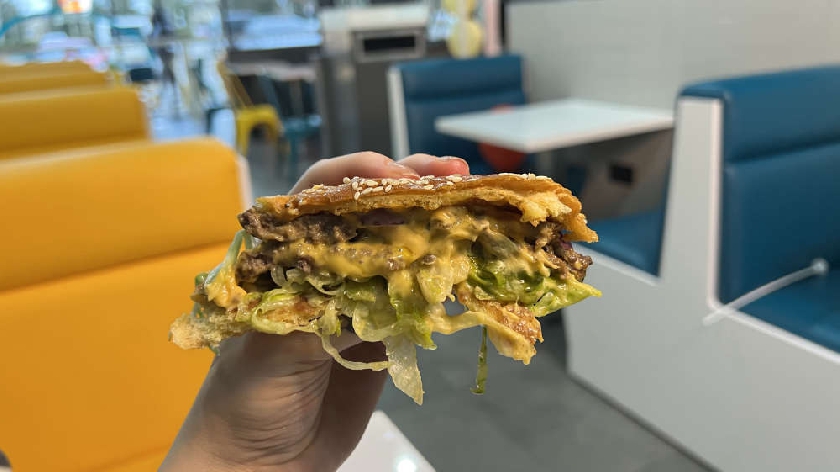 The Classic Smash burger was even bigger and dirtier than the BBQ Smash, in-fact I think it was bigger than the Chipotle burger too. It was completely jam-packed and was very messy! But the best burgers are. The double cheese was oozing out and I wasn't complaining because I am a big cheese fan. Inside there is plenty of lettuce, red onions, and gherkin, not to forget the double patty, it really was classic. I tried some of the Big T sauce with this burger and wow, I fell in love.
The added sauce tasted like a mixture of mayo and salad cream, I know that may sound strange, but it was nothing but heavenly, added to the Classic Smash it was the perfect combination. The Classic Smash seemed to get better the more you bit into it, I was becoming more and more indulged as I kept eating it.
The Chipotle burger
The Chipotle burger was completely new to me, I have never had anything Chipotle based. Inside the burger, you have again the much-loved red onions, lots of lettuce and gherkin, double cheese, and a double patty, doused within all of these ingredients was Chipotle sauce. If you are a Chipotle fan then of course this would be right up your street. I also added some of the Chipotle sauce with it, this instantly boosted the flavour and I started to feel a hot sensation building up.
For me personally, I am not very good with hot or spicy foods, whilst I was eating the Chipotle burger, I started to feel a gradual tangy and hot kick in my mouth, my lips started tingling and the sauce began to taste a lot hotter, as you can imagine in my case, I immediately reached for my water! Even after you have stopped eating the Chipotle burger you are still left with a lingering tingle and light spicy heat in your mouth, as I say I could imagine that this sounds like a delicious hot burger for the hot and spicy foodies out there in Milton Keynes!
Overview
Honestly, I and my sister are already thinking of our next trip to Fat Twins after trying out their new burgers. We had a great time and left with serious food babies, you get exactly what you pay for and that bit more as each burger was huge and filled to the brim and tastes so good. A Fat Twins meal is very filling, but to me, that's exactly what you want! I would rather leave food because I couldn't finish it than not have enough and Fat Twins certainly provides that quality. It's even better when you are sat in a very cool diner environment that gives great service, with the final outcome of an all-around great experience!
Click here to visit the Fat Twins Facebook page.