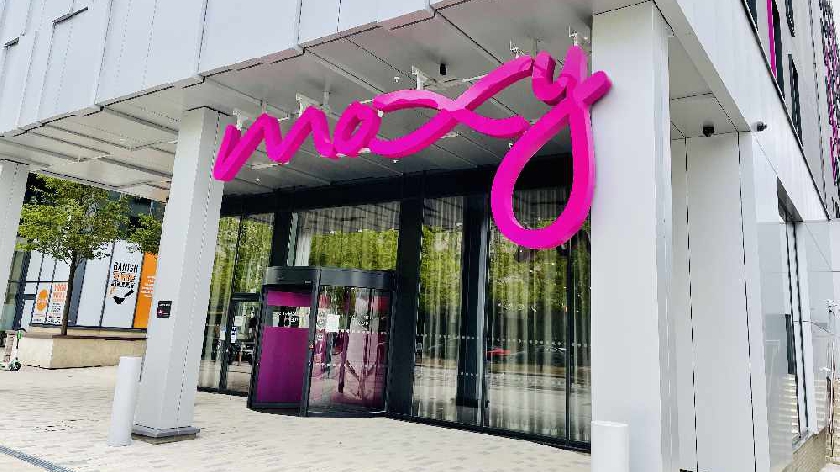 The Moxy serves proper coffee, it has a fully stocked bar and a menu ideal for sharing.
Milton Keynes' newest hotel, owned by the Marriott, opened its doors at The Hub last week (18/06). Located opposite Sainsburys on Avebury Boulevard, it is ideally positioned between the train station and shopping centre.
Later this week we will post a review of our overnight stay but first we sampled what is on offer if you are not staying over.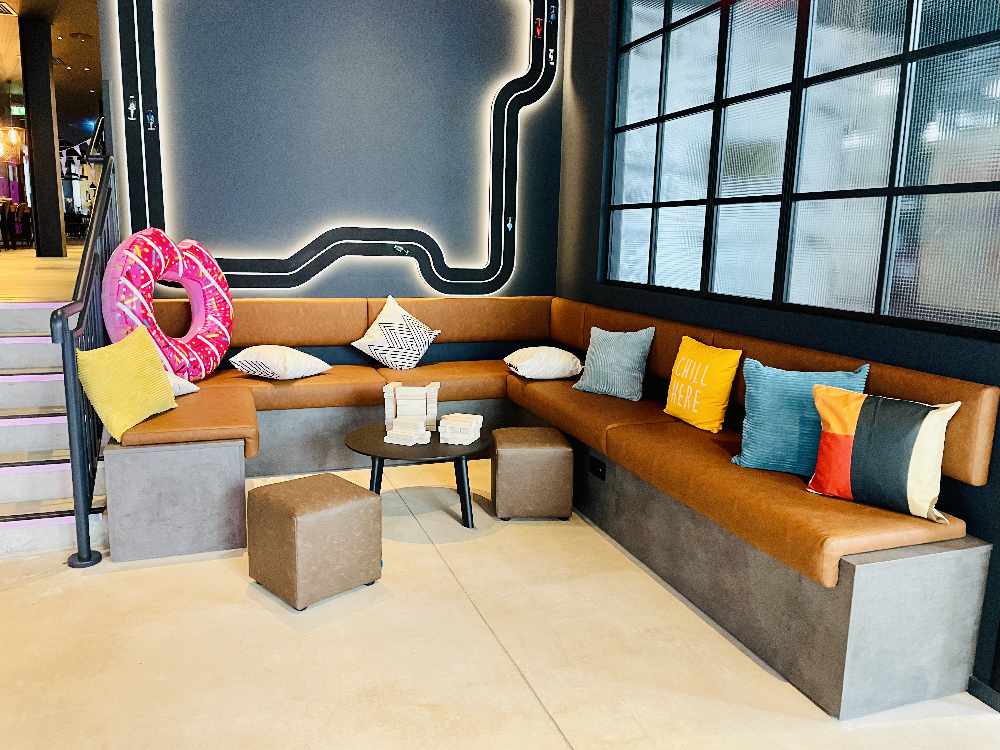 Catch-up with friends & family – Before COVID you could causally walk into most places and grab a coffee or have evening drinks without much thought. These days, with social distancing, to guarantee a table you ideally need to book at most places in town or wait for a table. As you can see from our photos, Moxy has a big open space with ample seating.
Moxy has an extensive range of hot and cold drinks, snacks, and food menu, as well as a fully stocked bar perfect for after work drinks or somewhere to meet up with friends for a few pints.
Perfect lattes – When it comes to hot drinks there is an extensive range to choose from. With one of those posh bean-to-cup machines at the bar and a barista on hand, you are guaranteed a decent cup of coffee at any time of day. There are also speciality teas and hot chocolate to choose from.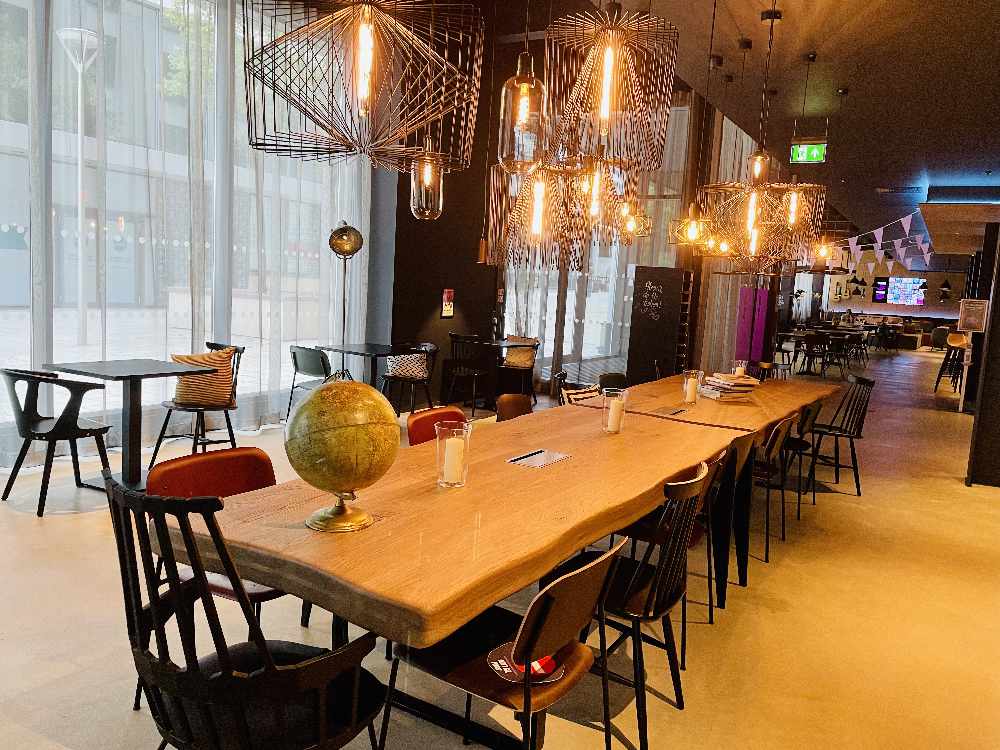 Business meetings – With Moxy being ideally located at The Hub this is the perfect place to meet for business. Perfect for one-on-one meetings or larger gatherings using one of the very long tables all fitted with power and USB points. There is also a private meeting area big enough for 4 people to meet behind closed doors.
Workstation – If you've had enough of working from home then pitch up and work from the Moxy. There is plenty of places to keep your laptop and phone charged and a printer if required near the entrance. Refreshments are all reasonably priced, so why not have a day away from home.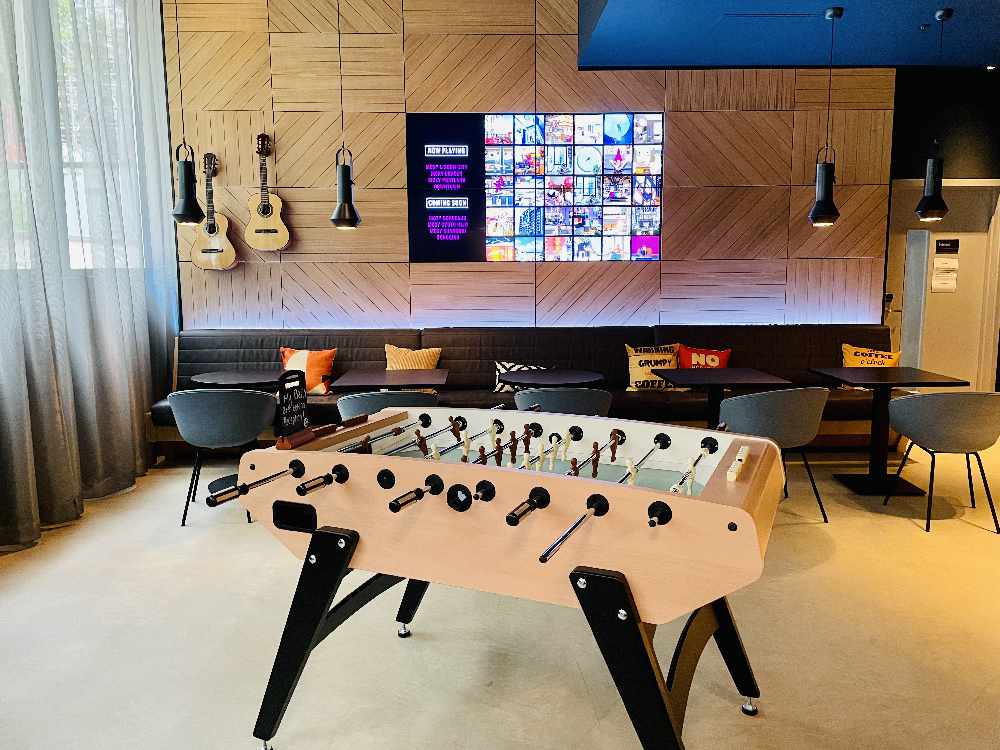 Bring the kids – Like many you maybe juggling work and looking after the kids. If you need to meet up with work colleagues or arrange a business meeting, there's more than enough to keep everyone entertained. If your children are old enough to amuse themselves there's plenty of games to play or bring your gadgets and take advantage of the free guest Wi-Fi and ample power sockets.
Foodwise, there's plenty for everyone with snacks including crisps, chocolate and light bites such as hot dogs, burgers, nachos and chicken wings. There is also curry and lasagne if you are looking for something a bit more substantial.
As you can see from our photos, Moxy offers something completely different and certainly doesn't feel like any other hotel lobby we've been to. With loads of space, reasonably priced food and drinks, Moxy will fast become your first choice to meet up for business or pleasure.
Read more about Moxy here.
For your chance to WIN an overnight stay for two at Moxy Milton Keynes simply nominate a quirky name for one of their new rooms via our submission form here.