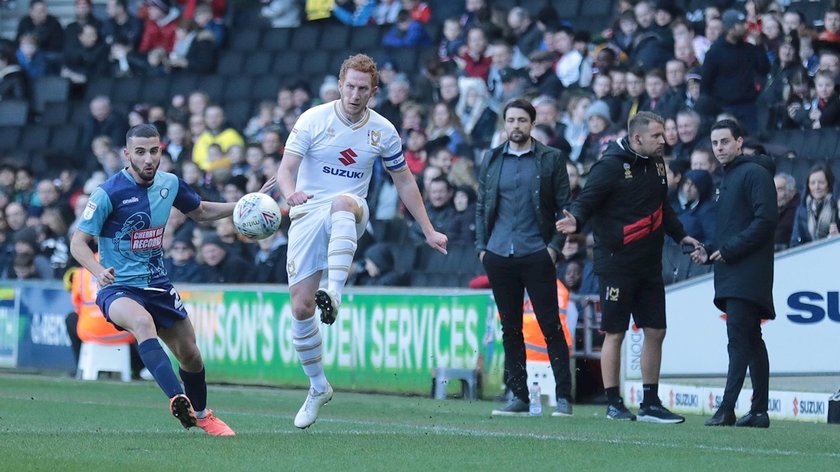 Image Credit: Milton Keynes Dons Football Club
Dean Lewington is arguably the first true legend for Milton Keynes Dons Football Club and his play on the pitch in 2019/20 shows that he continues to defy his age.
Dean Lewington has been the face of football in Milton Keynes for more than a decade, starting his career with the original Wimbledon FC youth academy and following the team up the M1.
He made his professional debut towards the end of the 2002/03 First Division season for Wimbledon, a brief substitute appearance coming in a 4-2 loss to Sheffield Wednesday.
The following season finally saw the club move to Milton Keynes, a place that Lewington has remained throughout his impressively long career.
He became a regular on the left side of defence from the 2003/04 season and has now racked up an astonishing 760 total appearances for the Dons, with the 2019/20 League One campaign being curtailed with nine matches still remaining.
At the age of 36, many players are either retired or clearly heading towards it, but Lewington continues to be ever-present for the Dons and shows the true quality he has had throughout his career.
MK Dons recently revealed some interesting statistics from the curtailed campaign and Lewington's name appears at the top of the list for a number of them.
In all competitions, Lewington made the most appearances for the club with 39, 38 of which were starts, showing that he is still capable of seeing out long seasons despite the stage of his career he is in.
He remains the team's leader on the pitch and can always be counted on to put in a strong performance.
While midfielders may typically be viewed as the players needing to pass the ball around the most, it is Lewington again that led the team in this category, with 1323 completed passes this past season.
This statistics is additionally impressive as it ranked as the seventh-highest total in the entire league and was around 250 completions more than the Dons' second-highest, which was Jordan Houghton's 1087.
Lewington has always been known for his no-nonsense approach to the game and never shies away from a tackle, which he demonstrated once again by completing a team-leading 81. Again, this particular statistic saw him rank sixth in League One.
While he doesn't possess the pace anymore, he has adapted his game to continue to be one of the more effective players on the MK Dons team, both on and off the pitch.
He will forever be viewed as a legend in the eyes of the fans and there will be many that hope he signs a new deal this summer to extend his time with the club, with 800 total professional appearances the next landmark he could hope to achieve.