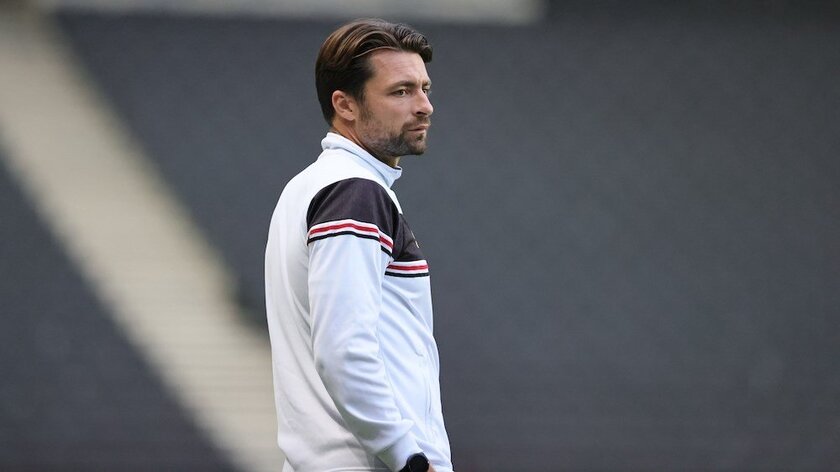 Image Credit: Milton Keynes Dons Football Club
After making some impressive progress with Milton Keynes Dons, manager Russell Martin has been the focus of speculation over a vacant Championship job.
Bristol City parted ways with manager Dean Holden yesterday (17th February), and a handful of names have emerged as potential suitors for the role, including the Dons' boss.
Martin is unsurprisingly mentioned as a candidate in the swirls of reports and rumours around social media, with the 35-year-old showing real development with his team in Milton Keynes, having them play an attractive style of football that would fit right in the Championship and above.
But the link with Martin is an unusual one, given that the Robins are reportedly keen to bring in someone with experience to help them improve on their recent run of poor form and get the team climbing the league table again.
With Martin in the job for just over a year now, this wouldn't line up with the club's preference.
The style Martin wants his team to play takes some time to implement, and with Bristol City needing wins right now rather than further down the line, that is something that will certainly be a consideration when searching for a manager.
Martin himself seems to be keen on a long stay with the Dons, having spoken on numerous occasions about remaining at Stadium MK for the long-run, trying to achieve something with the team that has given him his first opportunity to manage and has so far allowed him to operate in the way that he desires.
Speaking to MKFM last week, Martin reiterated his intentions to manage the Dons for a long time, with plenty of progress already shown from the hard work he and his staff have already put into this very young squad.
Martin explained: "I do believe in the long-term. With the culture we're building and the way we're playing, hopefully it will be good enough to move us up a level. I just don't know how long that's going to take."
"In terms of my own thing, I see myself being here for the long haul."
He continued: "We've had to put a lot of work into stabilising the club, obviously keeping us in the league last year, and with everything that's gone on this year with the pandemic."
"So, I have to treat it like I'm going to be here for a very long time, and I hope that I am."
He concluded: "I hope by the time that we leave we are in the Championship, at least playing good football. However long that takes us, hopefully we'll get there eventually."