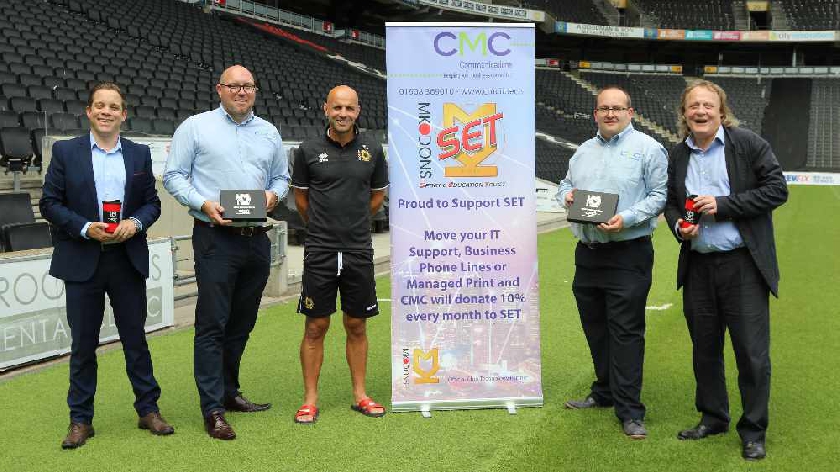 MK Dons have announced local IT solutions company, CMC Communications as their new Official Technology Partner.
The deal, which is a significant investment into the Club, is over 3 years and includes the supply of all Stadium MK's mobile phones, as well as landlines and Gigabit Internet.
The Commercial team at the Club have been working with Simon Wright, Managing Director of CMC Communications and Sales Director, Phil Glenister to create a bespoke package unique to MK Dons. As part of the new agreement, the Kingston-based IT firm, will sponsor MK Dons hospitality areas, including clubRed, clubGold, clubPlatinum and clubBlack, and continue their clubPlatinum membership for the fifth season in a row.
Simon Wright says, "We have always been a big supporter of MK Dons and value the impact that they have had on the city. Over the past 12 months we have been looking to take that partnership to the next level and it is a genuine privilege to become the Official Technology Partner at a time of genuine optimism for the coming season."
The 23 year old company were one of the first Vodafone partners in the UK and have evolved to provide solutions ranging from cloud networking, to mobile communication and ultra fast broadband.
Andy Wooldridge, Head of Business Sales says, "We are delighted that CMC Communications have become our Official Technology Partner. Simon and the team bring with them a wealth of experience that will help us improve our ability to keep connected. As part of the relationship, CMC are sponsoring our hospitality areas and helping us to continue to develop our fantastic hospitality offering. We are really looking forward to developing the partnership over the coming three years and beyond."
Pete Winkelman, Chairman of MK Dons adds, "These guys have already shown us they are willing to go above and beyond as partners. They recently went over to Paul Tisdale's home in the Cotswolds to deliver his new phone and assist with his broadband set-up, showing how important the personal touch is to their business. We are very happy to announce this deal and continue to partner with high quality local businesses in our great city."