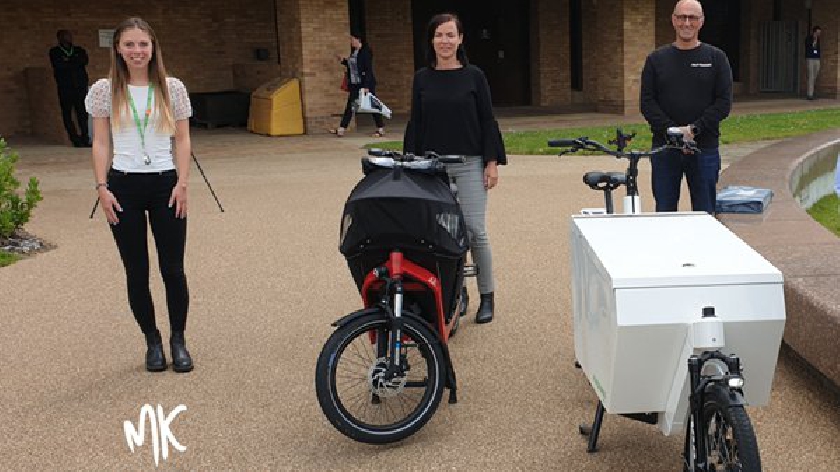 MK Council is encouraging businesses to express their interest in a new eCargo bike rental scheme and help achieve the city's carbon reduction ambitions.
Earlier this year MKC successfully secured funding from the Energy Saving Trust to purchase 21 eCargo bikes, 13 will be available to lease to local businesses.
Council colleagues will use the remaining bikes to help deliver everyday services, and donate two eCargo bikes to The Hubbub for their Food Connect project, which delivers food to four community fridges in Milton Keynes.
The remaining fleet of e-cargo bikes will available to rent to local businesses across MK, and the Council is looking for companies to manage the lease hire scheme, including servicing and maintenance of the fleet. To express interest, please follow the link below and complete the application form by Friday 21 August: www.contractsfinder.service.gov.uk/Notice/a85b5bf5-41cd-4323-adef-e06b39843455
Fully Charged Silverstone has been awarded the contract to provide MKC's 21 eCargo bikes – 16 Riese & Muller, two Urban Arrows and three Tern eCargo bikes.
Cllr Lauren Townsend, Cabinet Member for Sustainability at MK Council, said: "We're committed to new and innovative ways to contribute towards our ambition of becoming carbon neutral by 2030. eCargo bikes are such a fantastic way to help us achieve this, meaning council colleagues, social enterprises and local businesses are all able to play a part in reducing our impact on the environment. I think electric bikes are the future, and I'm really proud that yet again Milton Keynes is leading the way."
Ben Jaconelli, CEO of Fully Charged, said: "The new age of transport is here. eCargo bikes are a truly viable alternative to cars and delivery vans in cities. The growth of enthusiasm for eBikes in the last couple of years has been phenomenal: once people try them, they're hooked."
If you are interested in using an eCargo bike in your business, you can find out more about the scheme and how you get involved here: https://www.getsmartertravelmk.org/cycling/e-cargo-bikes