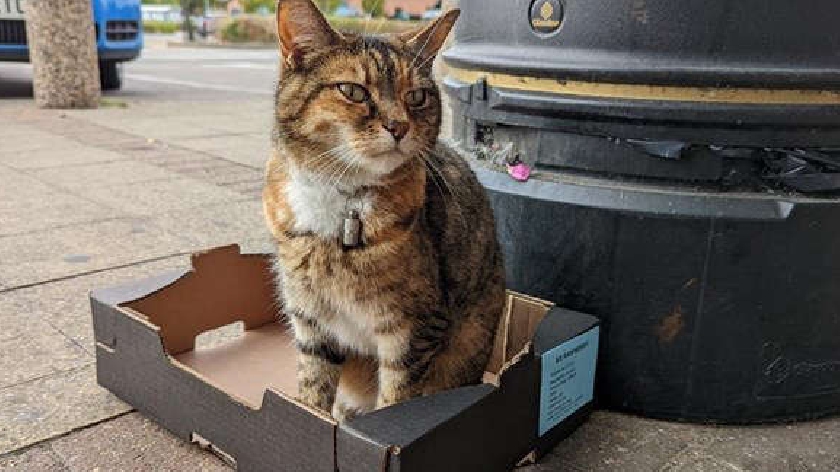 Shoppers have been left devastated after the news that a famous Milton Keynes cat passed away earlier this week.
The death of a much-loved celebrity cat who loved to spend her days roaming the streets and aisles of Westcroft Shopping District has prompted a flood of love and devastation among Milton Keynes shoppers.
Earlier this week, Ada's owner sadly took to her Facebook page to announce the devastating news.
The Tortoiseshell cat, who had a loving home, chose to spend her days cheering up shoppers as she slept on her cushion and showed residents lots of affection.
Ada's Facebook page has over 4,000 members and she has been spotted going viral on TikTok and Facebook several times.
Tributes have been pouring in on her Facebook page, with one shopper writing: "We were up Westcroft just a few days ago,and she was on her cushion just watching the world go by. I made the little noise you make when you call a cat (bit like a kissing sound) and she looked up at me,but we had literally bags of shopping in each hand,I wish I would've put them down and gave her a little stroke."
Another said: "I am so sad to hear this sweet little girl has crossed the rainbow… she will forever be in my thoughts when I go to westcroft. I am so glad I had the pleasure of meeting her and having cuddles on many occasions. My heartfelt condolences to Ada's family. Thank you so much for sharing her with so many of us for so long. I hope we enriched her life as much as she enriched ours."
In legacy of the famous cat, Ada's owner has asked residents to donate to MK Food Bank and has set up a JustGivingPage here.
"Please donate to the MK Food Bank in Ada's name. I like to know that her legacy is doing some good for the people of Milton Keynes," Ada's owner wrote.
So far, over £700 has been raised in her memory.