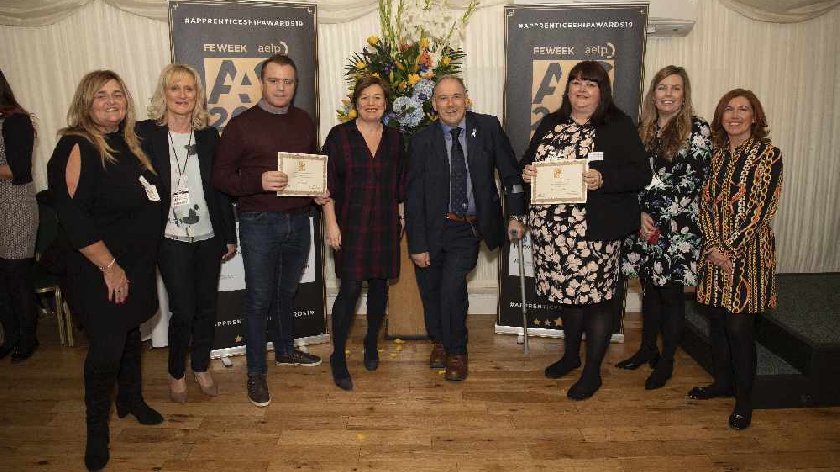 Hairdressing lecturers from Milton Keynes College have enjoyed a fabulous celebratory reception in the Houses of Parliament as national finalists of the AAC Apprenticeship Awards.
The department was shortlisted from a big field of apprenticeship providers for what is one of the most prized awards in the sector.
Apprenticeship Manager for Hair, Sarah Thompson, says it was an inspiring occasion which made her feel incredibly proud of her team. She says, "They're the reason we're here today. They work so hard trying their best at everything asked of them and regardless of whether we win the big award I have no doubt this is the best college for hairdressing in the country."
Sarah says the key to the College's success is that every one of her team is kept completely up with current fashions because they all continue to work in the industry as well as being teachers.
"Our apprentices appreciate that there isn't a style or a technique this team doesn't know about because they're using them professionally themselves all the time. There's no doubt in my mind they deserve this award and every other one that's going."
There was standing room only for the event on the Terrace Pavilion at the Houses of Parliament which coincided with the start of the twelfth annual National Apprenticeship Week. It was sponsored by the chair of the influential Commons Education Select Committee, Robert Halfon. He says, "What this does is say we believe in the prestige of apprenticeships in our country. We want to build a skills nation and make sure every young person can climb the education and skills ladder of opportunity."
The awards are jointly run by sector journal, FE Week and the Association of Employment and Learning Providers (AELP) as part of the Annual Apprenticeship Conference taking place at the International Convention Centre (ICC) in Birmingham later this month. AELP chief executive, Mark Dawe says, "We've got the best of the best here when it comes to apprenticeships so it really does feel like a launch of National Apprenticeship Week. This is what it's about. It's about celebrating providers and recognising their excellence."
The shortlist was whittled down from more than 350 entries and the winners will be revealed at a Gala Dinner at the conference on 28 March.