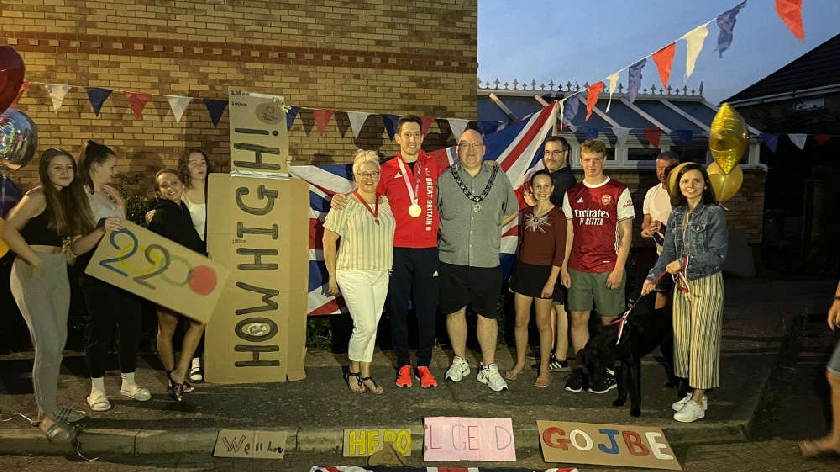 The cardboard (left) is as tall as Broom-Edwards' winning jump!
Newport Pagnell residents welcomed Jonathan Broom-Edwards, high jumping champion, as he returned from Tokyo with his Gold Medal yesterday (5/9).
Hundreds of people took to social media and there was a crowd waiting to welcome the 33-year-old when he returned home after winning the global competition with a season's best jump of 2.10m during his second attempt in Tokyo on Friday (3/9).
Under the competition's COVID-19 safety measures, athletes had to return to their home country almost immediately after their event finished, and while Jonathan flew back towards Heathrow the town began to celebrate his achievement.
Already-current World Champion, Broom-Edwards said: "It's been an emotional rollercoaster. I've been striving for it. To keep my cool and get it right when it counted, I'm really proud of myself.
"I always believed in myself and I wanted to come here and jump a new personal best. The weather didn't play ball but to do a season's best is amazing."
A golden homecoming celebration from my incredible neighbours and the mayor of Newport Pagnell! Oh, and my amazing little puppy Juno! Im so humbled by the incredible support I have received. Thank you to all of you! #ImpossibleToIgnore @adidasUK @C4Paralympics @ParalympicsGB pic.twitter.com/xWffwqLwXR

— Jonathan Broom-Edwards (@BroomEdwardsT44) September 6, 2021
Paul Day, Mayor of Newport Pagnell, who joined Broom-Edwards' neighbours to welcome the champion home in person, said: "The whole town is excited to have a Gold Medal come back from Tokyo, we're proud of Jonathan's success and hope that Royal Mail will paint one of our local post boxes gold so that we have an ongoing reminder of this week".
READ MORE: Milton Keynes-based high jumper Jonathan Broom-Edwards wins gold at the Paralympics