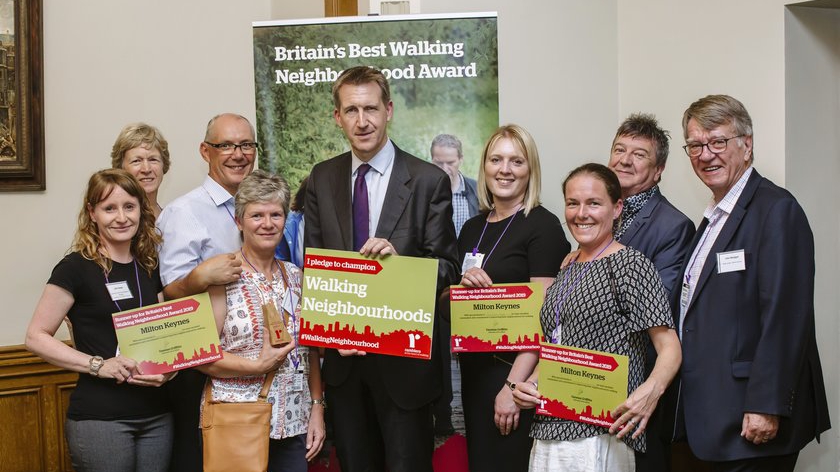 Image Credit: The Parks Trust
This year Milton Keynes was one of 80 nominated areas for The Ramblers 'Britain's Best Walking Neighbourhood'.
After a month of public voting, our city was shortlisted within the top ten most walkable urban areas across England, Scotland and Wales.
The team from The Parks Trust together with MK Council Sports Development and Milton Keynes Ramblers attended the award ceremony at the Houses of Parliament, where the winner was announced.
They were all delighted that Milton Keynes was awarded third place, considering it to be a great achievement for the town. First place went to Falkirk (Scotland) and Brockley (London) second.
The annual 'Best Walking Neighbourhood' award celebrates areas where positive steps have been taken to create green, welcoming and walkable neighbourhoods that put people - rather than cars - at their heart, leading to increased activity, and the health, social and economic benefits this brings to individuals and communities, while also combatting poor air quality.
Milton Keynes taking home third place for this award is as a result of the fantastic work done across the city to bring communities together through walking and also enabling walkers to enjoy over 6,000 beautifully cared for acres of parks, woodland and lakes.
The Parks Trust is the self-financing charity that cares for the green space in Milton Keynes and offers a huge variety of walking events across the year, including the annual Walking Festival; which is supported by a network of valued volunteers, encompasses over 15 walks across three days, with walks suitable for all ages and abilities, and includes the successful MK Health walks.
These are delivered by MK Council to enable local residents to access a variety of accessible and social walking opportunities in their local communities.
The Parks Trust also runs weekly walking networking groups, walking groups for new mums, woof walks where you can explore Milton Keynes with your dog and guided walks where together with The Parks Trust's team, you'll discover new areas you might never have visited before.
Hannah Bodley, Head of Marketing, Events and Community Engagement, said: "We are delighted that Milton Keynes has been awarded third place in Britain's Best Walking Neighbourhood Awards."
"The team at The Parks Trust are very proud of our city and love to see residents and visitors enjoying the green spaces we look after whether that's a stroll in the park or attending one of our numerous events taking place throughout the year."
"This award is a great recognition of how much Milton Keynes has to offer."
Lisa Carvell, Walking for Health Scheme Co-ordinator for MK Health Walks, said: "We are thrilled that Milton Keynes, our city and our volunteers have received this award."
"With the Summer here we hope more people will explore parks and open spaces and become more active by accessing walking opportunities across the city."