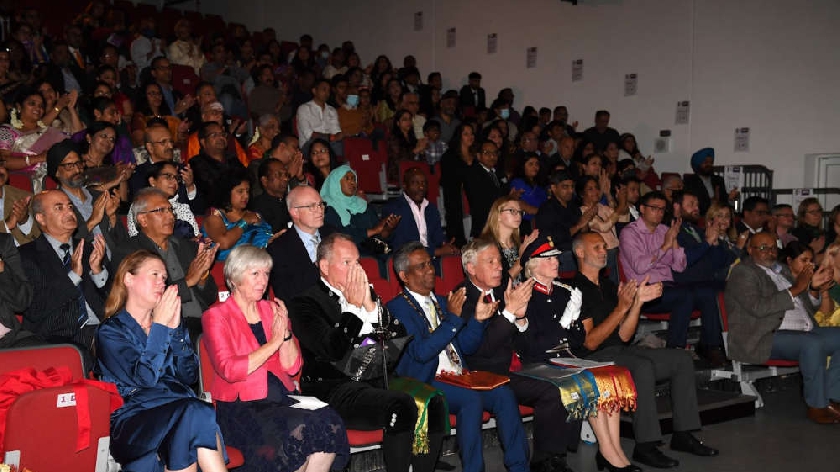 A presentation ceremony to receive the prestigious Queen's Award for Voluntary Service was organised on Saturday the 16th of October 2021 by DREAMSAI Milton Keynes.
Established in 2017, DREAMSAI was registered as a charitable trust in 2019 for the benefits of local communities in Milton Keynes and the surrounding areas.
Countess Howe, Her Majesty's Lord-Lieutenant of Buckinghamshire presented the Award Crystal and Certificate signed by her Majesty the Queen to DREAMSAI.
High Sheriff of Buckinghamshire, Deputy Lord Lieutenants, Mayor of Milton Keynes, Councillors, Charity partners, Faith organisations volunteers and a diverse range of guests attended the celebration.
The Queen's Award for voluntary service is equivalent to the MBE for individuals.
The award is given for outstanding achievement by groups in the United Kingdom who volunteer their own time to enhance and improve the quality of life and opportunity for individuals or other groups in the community.
Since the start two decades ago just 50 organisations in Buckinghamshire have received the Queen's Award for voluntary service.
Countess Howe in her speech said: "DREAMSAI is a small but highly organised, flexible, dynamic group that punches above its weight. For the last three years they have been able to rapidly respond to gaps in provisions for vulnerable people across the town of Milton Keynes.
"With the onset of the COVID 19 pandemic they immediately created effective new projects to reach out and support those in need, all of which was achieved solely by volunteers. The drive and energy of this group is palpable and derives from total commitment to their mission to meet the needs of people whatever their background as taught by their guru Shirdi Sai Baba."
"Under his chairmanship, Laxman Kastala has assembled a talented and highly motivated group of people around him. Business-like and well organised. The impact of their work has been far reaching and what is particularly impressive, is that help was rolled out so quickly when Covid struck.
"The number of volunteer hours given is quite staggering, and even more remarkable when all of them are holding down full-time jobs or in education. "