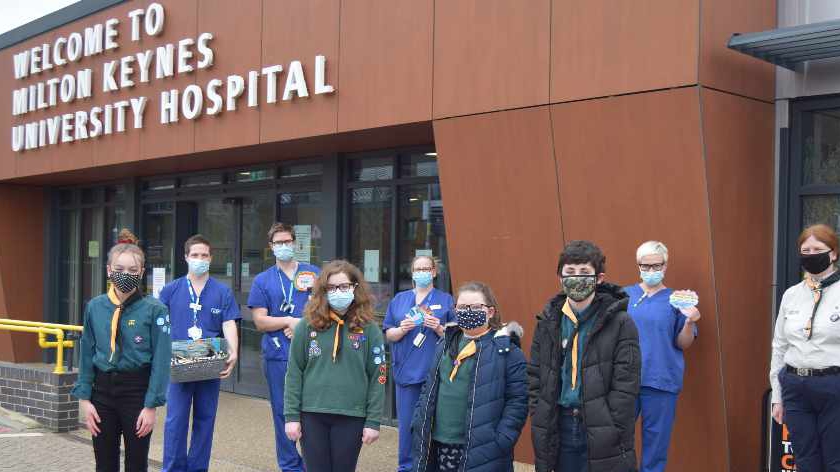 The Milton Keynes based Great Linford Scout Group have been generously donating self-care items alongside messages of positivity to the dedicated staff of MKUH's ICU Unit.
Children from a local Scout group have been showing their appreciation to some of the frontline NHS staff by saying thank you for all the countless hours of essential work they have carried out during the course of the COVID-19 pandemic.
The Scout group have raised funds to put together some self-care kits for the ward's doctors and nurses at Milton Keynes University Hospital while also having written many positive messages that will be used to brighten up the hospital in these difficult times.
Petra Norkett, from MKUH ICU Ward, was extremely thankful for all the support received as they said: "It is amazing that these young people have taken the time to think of others in these difficult times and we are blown away by their generosity.
"This will mean so much to me and my colleagues, the positive messages will be displayed in our unit which will also help our patients on the road to recovery. From us all here at MK University Hospital Thank you."
Lisa Ferraby, Secretary and Fundraising Coordinator, described the reasoning behind the donation campaign as she explained: "As a group, we aim to fundraise for a well-deserving charity each year. However, due to COVID-19, this has not been possible hence our donation.
"The staff in ICU Units especially are working tirelessly to look after the sickest of patients amidst this crisis; they are physically, mentally and emotionally burnt out yet dig deep and continue to provide outstanding care to our loved ones.
"The items that we are donating will help to soothe faces, hands and lips, areas that suffer most from the PPE worn for the whole of their shifts."
The group's young people have all rallied together to create messages that will instil a sense of hope and positivity within the local community that shall be displayed in the unit for both patients and staff alike.
Russell Horne, chairman of Great Linford Scout Group, praised the inspiring efforts of the local Scouts as he added: "It makes me immensely proud that Great Linford Scout Group have been given the opportunity to help the staff of MKUH ICU with one of the key fundamentals of what Scouting stands for, helping others.
"Lisa mentioned to me that one of her friends who works in the ICU had commented, due to getting dry hands and faces from continuous hand sanitising and wearing face masks, the staff members were purchasing large quantities of face and hand creams for themselves.
"Our Scout group decided to purchase and donate some of these products to the ICU team, as a thank you for looking after us all throughout the COVID-19 pandemic.
"The young people in the Scouts have been drawing pictures with positive messages of support and thanks to the staff to brighten up the ICU."