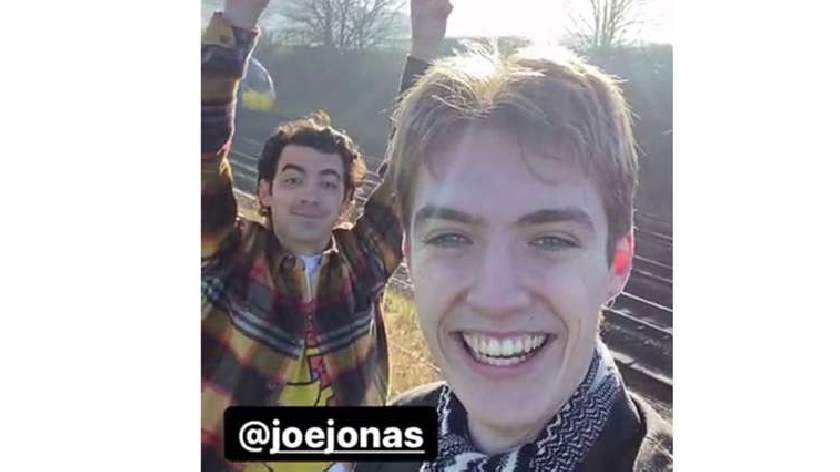 Instagram @joejonas @francis_bourgeois43
Francis told BBC Radio 1 that the famous pair met up to go trainspotting a field outside MILTON KEYNES.
On Wednesday evening (12/1), viral TikTok Trainspotter Francis Bourgeois shared a video to his social media accounts of him and Joe Jonas hanging out together.
Francis, real name Luke Nicholson, has suddenly rose to fame over the past few months after posting wholesome trainspotting TikTok videos. The trainspotter is known for often using a fish-eye camera to film his own face as he goes trainspotting up and down the country.
So many people around the UK have fallen in love with his videos and now he has even made fans across across the pond.
Joe Jonas, of Jonas Brothers, is the latest person to show their support for Francis. In videos posted on the trainspotters social media, Francis says: "I am trainspotting on the West Coast mainline today, with my friend Joe!"
The pair can be seen waving on trains as they go by.
With the video blowing up all over social media, Francis was invited to talk to Scott Mills and Chris Stark over on BBC Radio 1 yesterday (18/1).
The presenters were shocked that Francis was 'casually spotting' with Joe Jonas, to which Francis then revealed that the pair were just chilling outside MILTON KEYNES in the middle of a field.
Francis told the presenters that Joe was 'so chill' and that when other trainspotters bumped into them, they even asked Joe to hold the camera whilst they posed with Francis! No one would expect to see Joe Jonas out and about in rural Milton Keynes...
Two minutes of wholesome Francis train content to lift the mood… 🚂 pic.twitter.com/Wm3HCOJsel

— Chris Stark (@Chris_Stark) January 18, 2022
Fans have taken to social media shocked that the American pop-star was hanging around in the British countryside with one TikTok user saying: "How wholesome is it that a huge American celebrity is just chilling in the countryside in England trainspotting." Another said, "I can't believe Joe Jonas was just so close?"
Joe Jonas also put a short story on his own Instagram account, he filmed a close-up of the TikTok trainspotter standing in the countryside and waving.