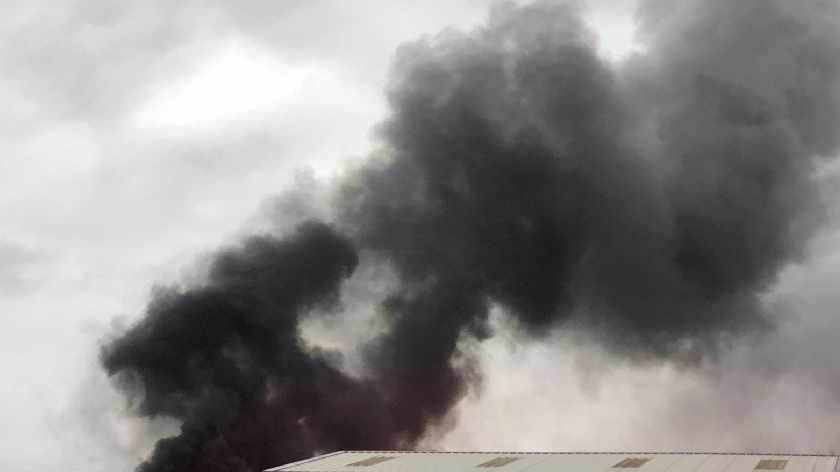 Library photo (not an actual picture of the smoke coming from the site)
Thick clouds of black smoke can regularly be spotted over a traveller site in Milton Keynes, which has prompted an investigation from local authorities.
MKFM has been contacted by concerned residents who live in Newport Pagnell and surrounding areas due to black smoke fires frequently coming from the land on Willen Road.
Willen Road is home to one of Milton Keynes' two official traveller sites, with the other being on Calverton Lane in Stony Stratford.
The sites are managed by Milton Keynes Council, and those who pitch up there have to pay a fee to the local authority.
Milton Keynes Council says that there are licensing conditions that have been agreed by those that use the site - one of the conditions being that fires are not permitted.
However, it is believed that fires are being lit at the Willen Road site. The fires have been seen to produce black smoke, which is caused by burning synthetic materials such as rubber or plastic and can be known to emit harmful chemicals.
Local residents alledge that these fires are being lit "almost every day", with one person telling MKFM that black clouds were reportedly blowing over the M1 on Saturday (5/6) and could be seen from the other side of the city.
These clouds have also been spotted from Central Milton Keynes and Kingston by MKFM reporters.
Residents have shared concerns about what is being done to combat this, and MKFM can confirm that it is being investigated by the relevant authorities.
Milton Keynes Council says that they are currently aware of, and are looking into, the black smoke fires coming from Willen Road's traveller site. They are working alongside Thames Valley Police and the Environment Agency, who are now the lead agencies involved in the matter.
The Council has clarified that anybody who is found to be breaching the licencing conditions by lighting fires will be removed from the site.
Complaints have been made to Milton Keynes Council, although they now request that any concerns about smoke or burning should instead be passed on to the Environment Agency.
Residents that wish to make a complaint can do so by quoting grid reference 487949, 241865 and nearest postcode MK16 0QE. Their incident hotline is 0800 80 70 60 and their email is incident_communication_service@environment-agency.gov.uk.