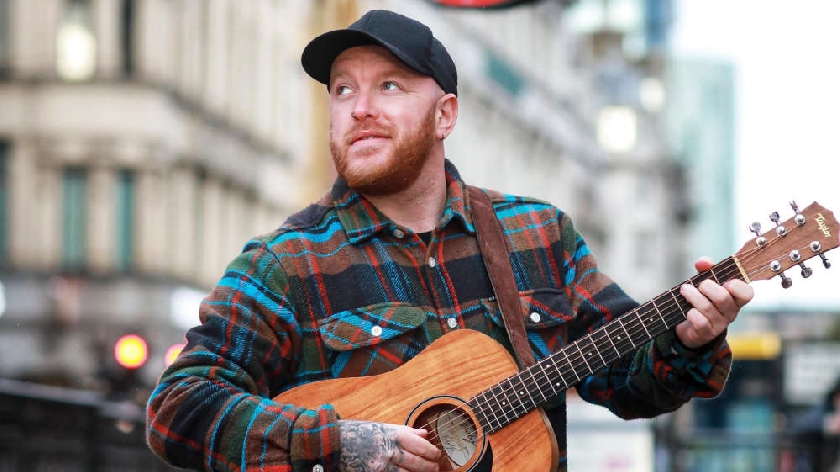 You may be familiar with Joe as he regularly busks around the City centre of Milton Keynes singing many well-known classics, now you can hear him perform his own original material.
Local singer and songwriter Joe Scripps is known as a '1 man, 1 guitar' busking sensation.
Joe is well known around Milton Keynes for his regular performances in Central Milton Keynes, showcasing his talents in performing acoustic renditions of well-known classics from Wonderwall to Sweet Caroline. Joe has been seen performing in many places in Milton Keynes local venues and also outside of Milton Keynes too.
You may have also seen a recent special wedding proposal that took place in front of Joe's local centre performance which was shared all over social media.
Joe is now keen to show to the world his own original material, and, now he is happy to announce his long-awaited single 'Come Down', his first of many official releases. You can listen to 'Come Down' on all major streaming platforms.
Joe has a lovely unique tone and style that gives off a mixed vibe of Maverick Sabre and James Morrison, very warm and husky vocals yet strong and full of emotion. 'Come Down' offers a great motivating sound with meaningful words all written by Joe himself, the song has perfect arrangement and is all gelled beautifully with the talented vocals of Joe.
Jodie Erica asked Joe some questions:
Tell us about your new release, is there a meaning behind it? Do you write your own songs?
Hey, I'm Joe Scripps and my new single 'Come down' is now available to stream on all platforms. I started writing this song in lockdown and managed to finish it earlier this year. I went to my friend's recording studio in London for over 2 days where we really bought the song to life. I have a whole bunch of songs, some finished, some that still need some work! I enjoy writing songs, I have quite a few random recordings and notes on my phone when I think of something, I make sure to make jot it down! Sometimes the songs write themselves, sometimes the process is longer.
How long have you been performing? Tell us some backstory about your journey.
I've been performing for many years, doing several seasons out in Salou, Spain singing as part of a group and as a solo. I've done tribute work previously to Olly Murs and Sam Smith and more recently have worked on a new show Sounds of Sheeran. This year my Sounds of Sheeran has blossomed and have played many Ed Sheeran sets up and down the country, including festivals and Butlins.
Who are your musical influences and inspirations?
The main reason for me picking up the guitar was after listening to James Morrison and wanting to write my own music similar to his.
My other musical influences are JP Cooper, One Republic and Oasis to name a few.
What other hobbies/passions do you enjoy regardless of music?
My other hobbies would probably be a plain canvas and spray paint and a good walk around a lake. I love a little bit of art when I find time to do some.
Do you have a favourite memory so far, of a performance etc?
Recently I have really been enjoying people requesting my own songs and even singing along to them at gigs. Hopefully one day I'll have a full crowd singing back an original.
Where are your favourite go-to places to perform in Milton Keynes?
My go-to place in Milton Keynes is busking outside of Zara in the new bit that isn't new anymore!
Keep up-to-date with all of the latest from Joe Scripps including his next gig dates and newest releases here.