MK50 Countdown with Mikey, Trevor and Helen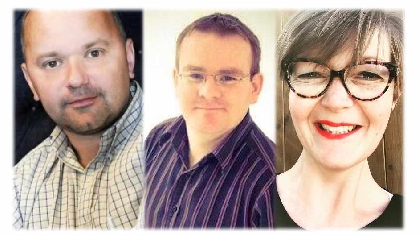 Mikey Faulkner, Trevor Marshall and Helen Legh counted down the 50 biggest songs from the last 50 years to celebrate Milton Keynes's 50th Birthday.
They were on MKFM on Bank Holiday Monday May 29th between 10am and 3pm sharing your memories and playing your songs.
We've been asking you to suggest your favourite songs for the past few months, and now we've finally compiled the Top 50 list.
And just to make it that extra bit special, we got three legends of Milton Keynes radio to host the big countdown.
You can listen again to the show below:
Part 1 (10am to 1pm - Numbers 50 to 21)
Part 2 (1pm to 3pm - Numbers 20 to 1)
Mikey Faulkner is the Breakfast Presenter at MKFM and has worked on the station for the last six years. He was also a familiar voice as a presenter on Horizon Radio in Milton Keynes for a long time before that.
Trevor Marshall was the host of Breakfast on Horizon Radio from 1995 until 2008 and is one of the most well-known voices in our area. He can also be heard as the Matchday Announcer at MK Dons home games.
Helen Legh starting hosting Breakfast on Horizon Radio in 1995 and moved on to work with BBC Three Counties Radio hosting the Milton Keynes breakfast show on the radio station. She also hosts her Sunday night mixtape show on MKFM.
All three presenters shared their memories of our fantastic city as they counted down all the biggest hits.
The MK50 Countdown - The 50 Songs That Made MK Great.